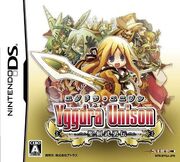 Yggdra Unison - Holy Sword Legends is a spin-off of Yggdra Union released on the Nintendo DS and cellular phones. The game is a reimagining of Yggdra Union in a different gameplay format. Yggdra Unison was released exclusively in Japan. The Cellphone version was released on November 11, 2007, the DS port following two years later on December 3, 2009.  
Ad blocker interference detected!
Wikia is a free-to-use site that makes money from advertising. We have a modified experience for viewers using ad blockers

Wikia is not accessible if you've made further modifications. Remove the custom ad blocker rule(s) and the page will load as expected.