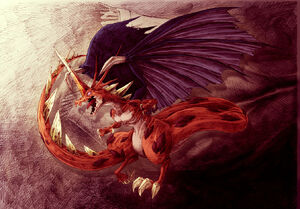 Wyrm is an enemy class in Knights in the Nightmare.
Pause Talk:Edit
"Pha grahisha grr.. (I'll swallow you whole!)"
"Phrahaaaa! (I will crush you!)"
"Hissh! (Insolent creature!)"
"Graaah! (Face me, weakling!)"
"Hrrrisssssh? (You want to fight?)"
Ad blocker interference detected!
Wikia is a free-to-use site that makes money from advertising. We have a modified experience for viewers using ad blockers

Wikia is not accessible if you've made further modifications. Remove the custom ad blocker rule(s) and the page will load as expected.