Rose R. Crawford
(

ロゼ・R・クロフォート

Roze R Kurofōto)
, also known as
Rothe
is
Ein
's familiar and guide in the
first chapter
. She was assigned to Ein to help him cope with being sent out right after being made a
Grim Angel
, and is often frustrated with his lack of knowledge about things she believes to be obvious. Although she teases Ein relentlessly, she does care for him deeply, and considers him to be her friend, not just her master. She is shown to have an interest in history, and is very respectful towards
Ledah
. If none of the heroines care about Ein enough, he returns to Asgard with Rose at the end of the game; all versions from the original GBA release on, however, do include a special ending for her (referred to by fans as her Good Ending or True Ending) that requires a base amount of
Cierra
's affection.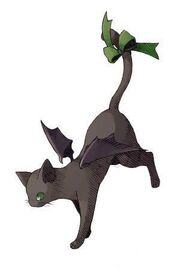 Rose doesn't like being equated with a cat because of her appearance, and is highly unamused when one of Cierra's potions robs her of her voice. Cierra also names her 'Gateau' and continues to call her by that name for the entirety of the game, much to Rose's chagrin. While her age is not given, she is one of three characters from Riviera whose full name was revealed by Sting and the only one whose full name is revealed in-game. Some fans hold her birthday to be October 18, the release date for the Special Edition of the PSP version in Japan.
Rose generally does not participate in battle, except as an unwilling participant in Ein's Blazing Rose overskill.
She is voiced by Komatsu Rika in the PSP version of the game.
Mugshot Gallery
Edit
Ad blocker interference detected!
Wikia is a free-to-use site that makes money from advertising. We have a modified experience for viewers using ad blockers

Wikia is not accessible if you've made further modifications. Remove the custom ad blocker rule(s) and the page will load as expected.