Lamia is an enemy class in Knights in the Nightmare.
Neutral   - Queen Lamia
Fire      - Fiery Naga
Ice       - Cleo Medusa
Lightning - Grim Lamia
Sanctity  - Radiant Fang
Darkness  - Dusk Serpent

Pause Talk:Edit
"Let me nibble on you... with my poison fangs!"
"There aren't many handsome men these days..."
"Hehehe... You're so cute..."
"I'll strangle you... Slowly, so I'll enjoy it."
"My body aches for you... Come over here, quickly..."
"I kill so many cute boys, but this never gets easier."
"Hehehe... I'll take my time making you suffer."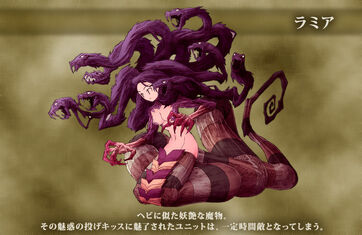 Ad blocker interference detected!
Wikia is a free-to-use site that makes money from advertising. We have a modified experience for viewers using ad blockers

Wikia is not accessible if you've made further modifications. Remove the custom ad blocker rule(s) and the page will load as expected.