| | | |
| --- | --- | --- |
| " | "O angel who appears before a false god... With the will of the gods return all to nothing." | " |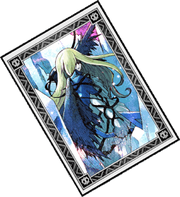 Description: The words of Grim Angel Kirke.
Ace Type: Axe
Maneuverability: 5
Skill Type: Break
Effect: Damage scales to the user's status upon use.
Condition: The Angelic only.
Original Power: 3400
Though this is technically Number 367's signature card, Judgment Zero only requires the user to be of The Angelic class (a class that is unique to No. 367 anyway). It is therefor theoretically possible for other units to use it if they are changed to The Angelic through cheating/hacking.
Ad blocker interference detected!
Wikia is a free-to-use site that makes money from advertising. We have a modified experience for viewers using ad blockers

Wikia is not accessible if you've made further modifications. Remove the custom ad blocker rule(s) and the page will load as expected.