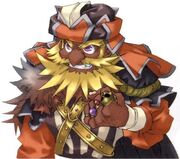 The leader of a group of desert bandits and thirty-eight years of age. Dort and his bandits took advantage of the absence of Meria-sanctioned knights protecting the trade routes and constantly attacked travelers in Nyllard. Eventually, they came across the Royal Army. Like
Ortega
and
Mizer
, Dort finds the bounty on
Yggdra
too good to pass up. He and his men have a hideout deep in the desert, and believe themselves to be invincible due to the protection of their so-called "
Protector
", a giant golem. Yggdra and company prove just how wrong they are. Dort is voiced by Inada Tetsu in the PSP version.
Sources:
Ad blocker interference detected!
Wikia is a free-to-use site that makes money from advertising. We have a modified experience for viewers using ad blockers

Wikia is not accessible if you've made further modifications. Remove the custom ad blocker rule(s) and the page will load as expected.